When Smith's Forefront helmet was first announced, it wasn't the company's use of a new material for better impact protection, or the remarkably light claimed weight that lit up the comments section – it was how it looked. The design and overall shape of the helmet turned out to be incredibly polarizing, a love-it or hate-it style with no apparent middle ground. However, out in the real world the helmet doesn't look nearly as outlandish as the original press release images made it seem, and fits right in with the current crop of extended coverage helmets intended for all-mountain usage. Plus, there's a good chance that it comes in your favorite color, since there are 10 different options to choose from.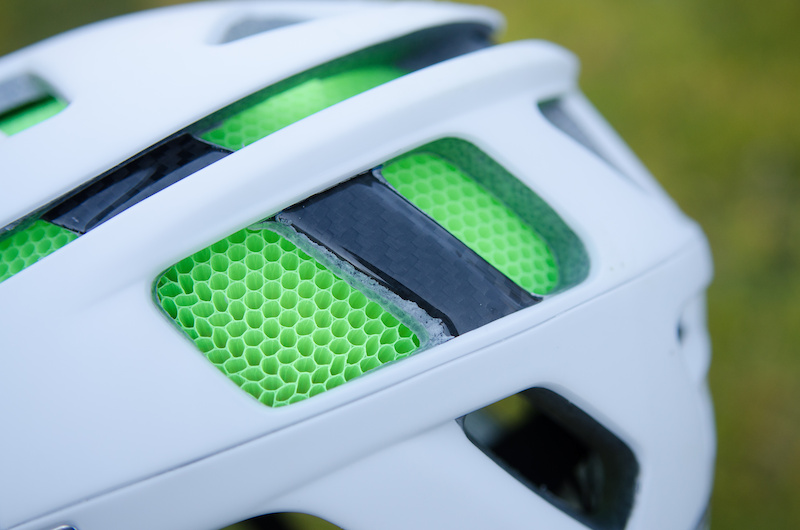 Polycarbonate shell, EPS and Koroyd liner
CPSC certified
Weight: 332 grams (actual, M)
Integrated camera / light mount area
Ten colors, sizes S, M, L
Available March 2014
MSRP: $220 USD
Construction and Features
The Forefront uses what Smith calls Aerocore construction to provide its impact protection. A plastic shell and inner EPS layer forms the helmet's exoskeleton, and three sections of Koroyd (the bright green material in the photos) are situated underneath this shell, directly above the rider's head. Koroyd is made using thousands of co-polymer tubes that are thermally welded together, forming a honeycomb like structure claimed to offer up to 30% more impact absorption than EPS. The material's straw-like hollow tubes are also claimed to allow for much greater breathability than EPS or foam.

Smith's Vaporfit retention system uses a ratcheting dial at the back of the helmet to adjust the helmet's fit around the head, and the positioning of the strap can be further customized by choosing from three different height options at the back of the helmet and four options on each side. A low profile, removable liner uses X-static fabric to help ward off bacteria and the general helmet-funk that can be caused by hours of sweat buildup. There are three positions for the Forefront's compact, removable visor, and it can be adjusted without fiddling around with tiny screws that inevitably get dropped onto the forest floor…