prep your bike for an epic adventure
Motorcycle traveller and tour guide Egle Gerulaityte shares her experience of riding South America and her tips on what to pack for a long-distance ride.
South America is easily one of the most sought-after adventure travel destinations for motorcycle riders. The legendary Pan American Highway snaking all the way from Alaska to Ushuaia, the southernmost city in the world, the looming Andes Mountains, and the meandering Pacific Coast routes and Amazon basin trails draw thousands of adventure riders to this continent every year.
In many ways, South America is a safe and easy to travel: simplified motorcycle import processes at each country, no visa requirements, and friendly locals make South America a great destination for long-distance adventures. Excellent road infrastructure, charming colonial towns and cities, plenty of fuel and lodging options along the way – nowadays, traveling South America doesn't require serious expedition prep and months of researching and planning.
However, riding South America on a motorcycle is still an adventure of epic proportions, especially if you prefer venturing off road. The Andes Mountains are the second largest mountain range in the world, and some Andean passes reach the elevation of over 16,000 feet above the sea level. The high-altitude plateaus, the arid, uninhabitable Atacama Desert, the tropical regions of the Amazon and the notorious Patagonian weather are all forces to be reckoned with. Extreme temperatures, varying altitude, and remoteness of some South American regions are all factors to consider when planning your South America trip, and it's best to go prepared.
For South America, protective, tough, and reliable riding gear is a must. You will be crossing multiple climate zones, sometimes in a matter of days, climbing from sea level to 10,000 feet altitude and back, riding through hot and humid tropics and brave the biting winds of the high Andean passes; terrain, weather, and elevation will vary wildly, often daily, and if you don't time your seasons right, you may experience subzero temperatures and even snow in Patagonia.
Motorcycle trip prep for South America is about factoring in the terrain, the varying altitudes, and the contrasting climates - no two days on the road will be the same.
Egle Gerulaityte - motorcycle traveller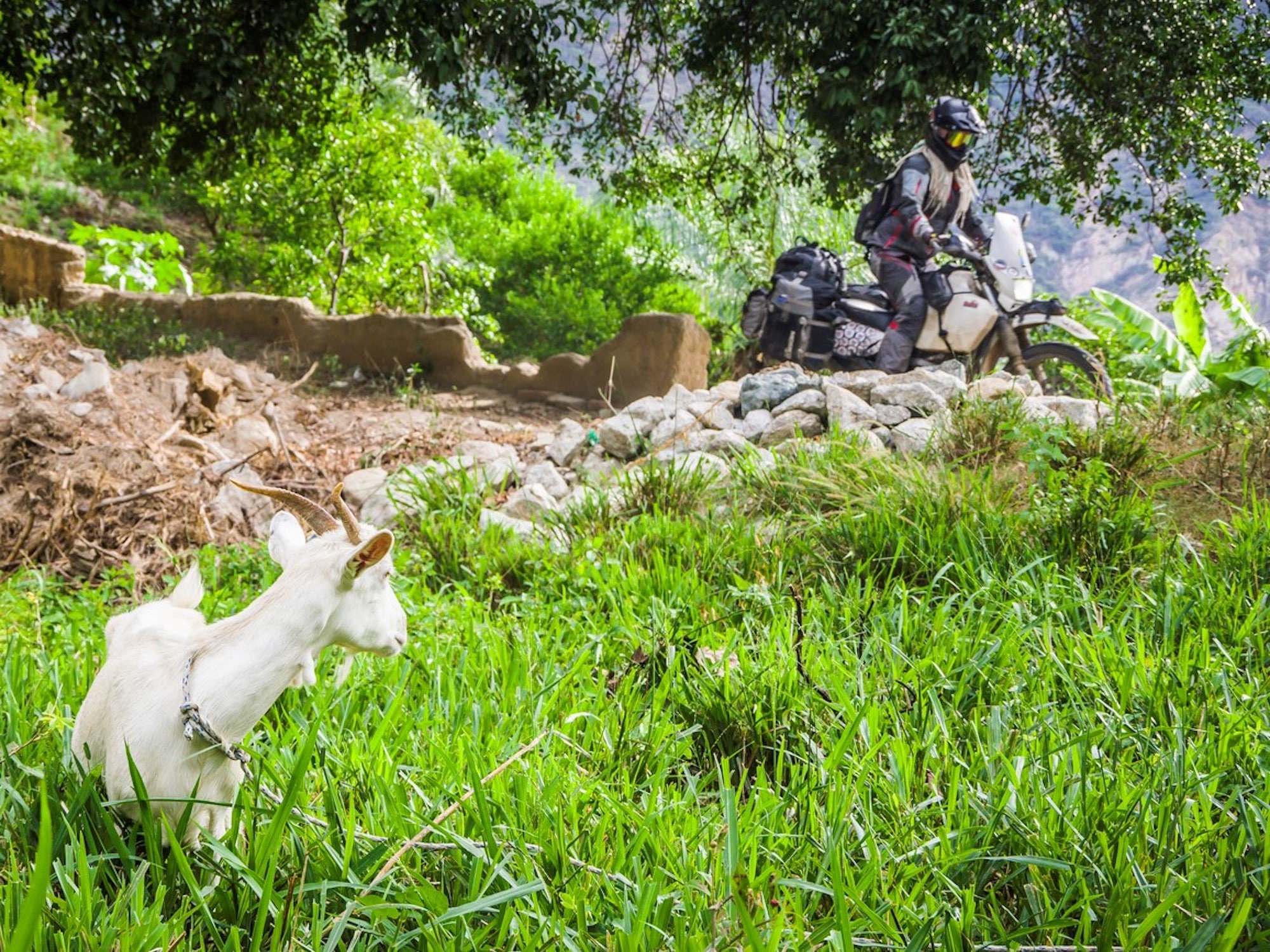 Because of this, I prefer riding in my four-season Klim Artemis suit built like an exoskeleton rather than a riding suit. With state-of-the-art armor pads and back protector, built for hard travel and designed to withstand crashes, and covered in a GoreTex outer layer, the Artemis suit has seen me through the hottest tropical conditions in the Caribbean to the freezing cold temperatures of the Andean passes and snow. I've also had several offs on pavement and on gravel, and the Artemis doesn't even bear so much as a scuff mark. 
If you're planning to mostly ride off-road and prefer lighter, motocross-style gear, however, choose protection you can trust. When riding pure off-road and single track or racing, I stick with motocross-style armor, knee pads, and a neck brace. Whatever brand you choose, make sure you're wearing good armour at your knees, hips, elbows, shoulders, and back. If you don't like wearing full-body armour when riding, consider adding the Koroyd back protector into your backpack slot – it's so lightweight you won't even notice it's there, but it can save you in case of a crash.
For South America, adventure touring helmets work best because they're versatile and offer great protection. I have been practically living in my Klim Krios helmet for years. It's incredibly lightweight, has integrated Koroyd core for advanced impact protection, its adjustable peak allows you to ride safely even when going westward during a sunset, and it has a photochromic visor which means you don't have to wear sunglasses. It's also compatible with off-road goggles if that's your preference.
packing for south america
Even if you aren't planning to ride South America for months on end, it will still be a long-distance trip, and you need to pack accordingly. First and foremost, choose your motorcycle luggage: from aluminum panniers and top boxes to soft luggage and rackless systems, there's no shortage of luggage options. I prefer soft panniers and a simple duffel bag over hard boxes because it saves weight on the bike, and in case of a crash, there's no risk that your foot may get stuck under a heavy aluminum pannier. If you plan to ride off road a lot, soft luggage systems are the way to go.
Packing lists for South America will vary as much as bike and luggage choices, but the essentials stay the same. To keep things simple, I've dedicated one of my panniers to camping and cooking gear: a tent, a sleeping pad, a sleeping bag, a simple cooking stove, and some pots and utensils for camping complete my Living Room pannier. Another pannier is the Closet: clothes, toiletries, first-aid kit, and an extra pair of gloves are stored here. Finally, my duffel bag is my Office: I carry my camera gear, laptop, and other electronics here. Motorcycle tools and spares are housed in a small toolbox behind the luggage rack, and I have an additional fender bag for spare tire tubes.
discover south america your way
Keeping it simple, wearing good gear, and packing just the bare essentials will help keep your bike light and nimble, brave any weather or terrain, and have an adventure of a lifetime while touring South America. Your setup might change as you go along, as you discover what works for you best, but to start off, these pointers should help you in the right direction. Safe travels and happy miles!