THE Freeride world tour 2021
"The lifespan of a professional skier is normally pretty short. I need to keep going and keep following this dream. So I said if I could make it happen I would, and I did."
Back to back winters are usually for the diehards. Skiers and snowboarders that chase the snow from hemisphere to hemisphere in search of the goods. But for Blake Marshall, a 26yr old Kiwi on the Freeride World Tour (FWT), it wasn't so much a conscious choice as a fundamental part of life. As a kid, his parents were ski instructors that flicked between their hometown Queenstown, New Zealand, and Morgins in the Swiss Alps. Blake, by nurture, was brought up on snow. He learnt to ski at age 3 and can't remember a time when skiing wasn't part of his life.
First he was a racer, and then a freestyle skier, before discovering freeride when he moved to Christchurch for high school and started competing at age 16. Shredding his way around the Club Fields of NZ's South Island, Blake spent his formative years riding everything and anything he could get his skis on with friends. Skiing purely for the love of skiing. No doubt this has influenced his aptitude for freeriding, where conditions vary massively between venues, days, and runs in a single event.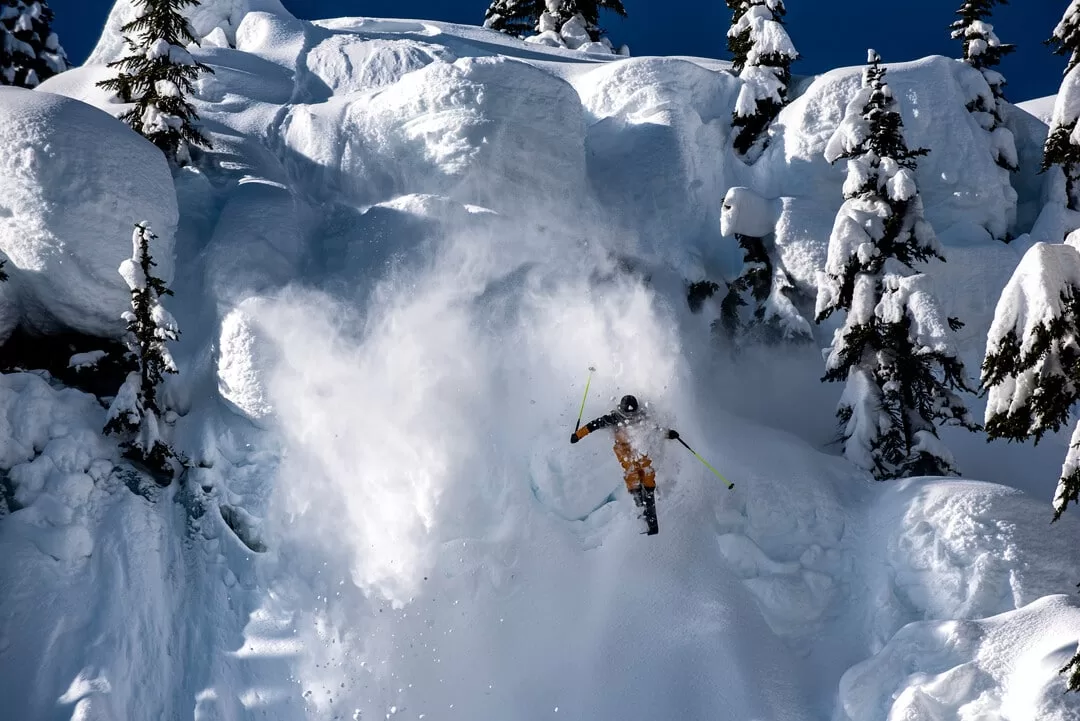 New Zealand has a way of breeding strong, multidisciplinary skiers. Most likely because of the widely variable snow conditions that are a product of unpredictable storm cycles that regularly batter the landscapes. Blake is one of a handful of FWT hopeful athletes who made the commute to compete this season. Close friends Jess Hotter, Craig Murray and Hank Bilious, all strong podium contenders, made the hard decision to stay at home due to the pandemic and travel complications.
Quarantine seems to be a common problem for athletes. Blake casually mentions having to cancel and rebook his flights 30 minutes before take-off. Luckily, a base in Morgins gave him the confidence to travel, "the lifespan of being a professional skier is normally pretty short. I need to keep going and keep following this dream. So I said if I could make it happen, I would, and I did." 
His Kiwi nature is obvious when we talk about the tour. If he is super competitive, it's buried somewhere deep within a very down to earth and humble approach to competing. Skiing on tour for the first time last winter, after winning the 4* Qualifier event at The Remarkables Queenstown, was a sharp change in the vibe Blake had become used to in Qualifiers. But regardless of the serious mood of competition days, he says it's only a fraction of the circuit. The rest of the winter is spent skiing with friends who are also on the tour, "everyone's super good skiers, so we just shred around having a good time."
The Freeride World Tour is, without doubt, freeriding's prized jewel in terms of competitions. Usually it consists of 6 events across the globe; Hakuba Japan, Kicking Horse/Golden Canada, Ordino-Arcalis Andorra, Fieberbrunn Austria and Verbier Switzerland, where finalists ride the famed Bec de Rosses in the Verbier Extreme.
Of course, with Covid reshaping normal life, last year's lockdowns and restrictions also impacted the FWT. The tour was cut short, with Verbier cancelled, leaving skiers and snowboarders hungry for a final chance to prove themselves. Typical of Blake's character, it hasn't really changed much for him, but his main goal is still to podium this year, saying "Hopefully I'll do that, and the rest will fall into place for Verbier."
Verbier is a resort that has been punctured by avalanche news this season. Most impactfully, fellow FWT competitor and snowboard veteran Victor de La Rue recently dug out his friend who had perished in a couloir slide. I asked Blake if hearing about this changed his feelings and nerves about the finals in Verbier. "Yeah definitely, I've only done one day there since getting to Europe and stuck to the side of the piste. I don't have any intention of going back any time soon." Instead, he's been spending most of his days skiing around Morgins in the Region Dents du Midi.
Arriving in Europe a mere 3 weeks before the first FWT stop in Ordino-Arcalis, the kiwi skier states the gym can only get you so far. Training for Blake is a mix of strength training, skiing hard with other freeriders or lapping the chairlifts in bad weather, and mindset training through visualisation and self-affirmation.
This year, he was fortunate enough to be invited to a Nendaz Freeride event,  where he impressively laced together four big tricks. A great practice to be in a competition mindset. However, he's also thinking more and more about risk this season after putting in the effort to get to Europe. Compromising the tour wasn't an option.
Despite his laid back attitude, his time on snow before competing has been very calculated; no new tricks in the backcountry, no bigger tricks, or hucking bigger cliffs. Instead, staying firmly within his limits, until competition days where he knows he can step it up.
This year's Freeride World Tour format is, as Blakes bluntly puts it, complicated. It depends on how many events happen. If there are 3 comps then the best 2 results will count towards the final. If there are 4 comps, it will be the best 3 results. And in order to have a finalist event in Verbier, there will need to be prior 2 comps, otherwise everyone will get a spot there. Keeping up?
Aside from the different format, the FWT crew will miss the usual parties and socialising that come hand in hand with the events. But as Blake said, even without his NZ competitors beside him, he's stoked to be here and will give his all to end up on that podium.