CHANGE YOUR HELMET, NOT YOUR LIFE
By now, we all know that wearing a helmet on your bike is a no-brainer. But what's the difference between a standard helmet and a more advanced one? And more importantly, why should you care? The simple answer is that the more advanced the technology in your helmet, the better your chances when you have a crash or fall.
Helmets aren't just there for bumps and tumbles; wearing one can be the difference between getting off lightly or suffering a life-changing injury. As more and more research is undertaken in the area of traumatic brain injury (TBI) and concussion, it's evident that protecting your head effectively can not only reduce the risk of serious injury but also debilitating long term conditions too. 
Helmets are changing. Previously you would likely only wear a full face helmet for downhill and an open face for road or enduro riding. But with the Enduro World Series now requiring a full face for racing and the implementation of better ventilation systems, full faces are becoming progressively lighter and more comfortable for pedalling up and well as riding down.
The Endura MT500 Full Face, for example, is so light and breathable that you can keep it on to climb in – ideal if you do a lot of serious enduro and are in between choosing a full face or open face.
Getting the correct fit for your helmet is vital because an ill-fitting helmet can compromise its effectiveness in a crash. As you'll be wearing your helmet for long stints riding, it's essential to find the sweet spot: a tight but comfortable fit.
To find the right fit, measure the circumference of your head about one inch above your eyebrows. Most brands now provide CM measurements as well as S, M, L, so you'll be able to use this as a good guideline. All brands will have a slightly different fit, so if you're able to, try on a bunch of brands to find the correct one for you. Women's specific helmets feature smaller inner circumferences, but it's worth remembering that any helmet is unisex if it fits well.
If you wear glasses or goggles to protect your eyes from the sun, wind, rain or dirt during riding, it's important to make sure they fit with your helmet.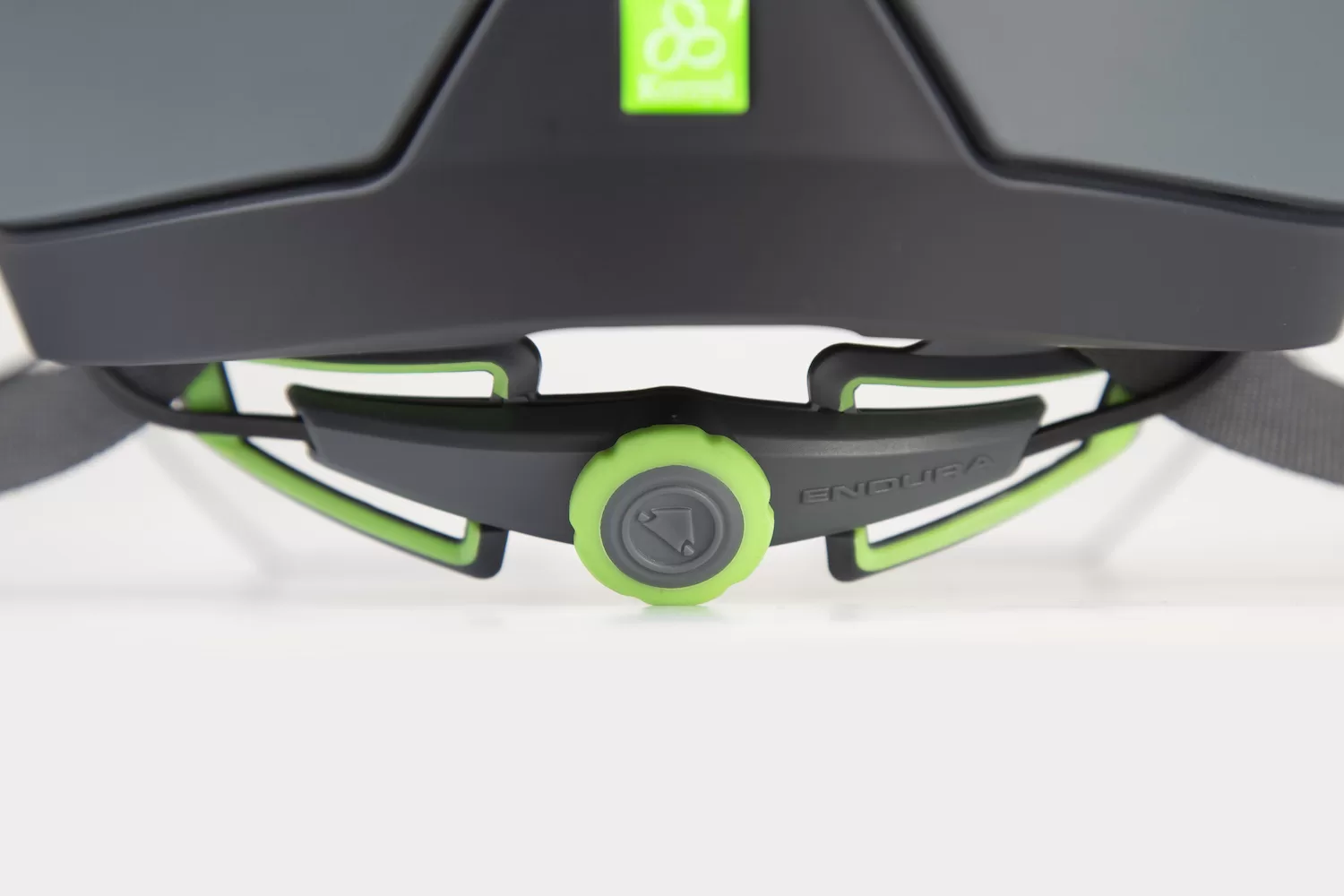 PROTECTING FOOD, OR YOUR BRAIN?
The general construction of a helmet is an inner comfort liner, an energy absorber, and an outer shell integrated to protect against force. The tough outer shell aims to prevent punctures and help you slide on impact to protect your head and neck. While the energy absorber is there to absorb/dissipate impact forces, and the inner liner provides comfort.
Traditionally, helmet manufacturers have used expanded polystyrene (EPS) for energy absorption because it's cheap, relatively light, durable and can absorb some energy in an impact. However, EPS was not explicitly designed for helmets and is commonly used for food packaging. There are now more advanced solutions for impact protection.
Koroyd is lighter, more breathable and absorbs more energy than EPS foam, providing distinct performance advantages without compromising one for another. More technically, there are five stages of material change which are vital to reducing the risk of injury. Koroyd outperforms other materials, including EPS, at every stage of compression. These points are proven by 'stress/strain' graphs (seen opposite) analysing the compression performance of different energy absorbing materials.
Immediate energy absorption – effective from the first millisecond.
Consistent 

energy absorption 

– following a straight line to densification.
Reliable energy absorption – uniform structure/uniform performance.
High volume energy absorption – up to 78% of the material thickness.
Little or no rebound – reducing the risk of a second pulse of energy.
Koroyd's welded tubes crumple instantly and consistently on impact, absorbing maximum force in a controlled manner, minimising energy transferred to your head. This unique behaviour helps to protect your skull and brain from direct and angled impacts, which may reduce the risk of suffering a life-changing injury.
When Koroyd is impacted, energy is better-absorbed through sacrificial plastic deformation (as seen in the image). The material acts as a true energy absorber, controlling and dissipating energy before it's transferred to the head.
protection without compromise
Not only does Koroyd provide the most advanced level of impact protection, it's also incredibly light and highly ventilated. Created using a structure which is 95% air, weight is reduced and comfort enhanced, without compromising safety. The open-cells formation of Koroyd means air can flow consistently and hot air from your head can easily escape – meaning even in the heat of day, you'll have efficient cooling.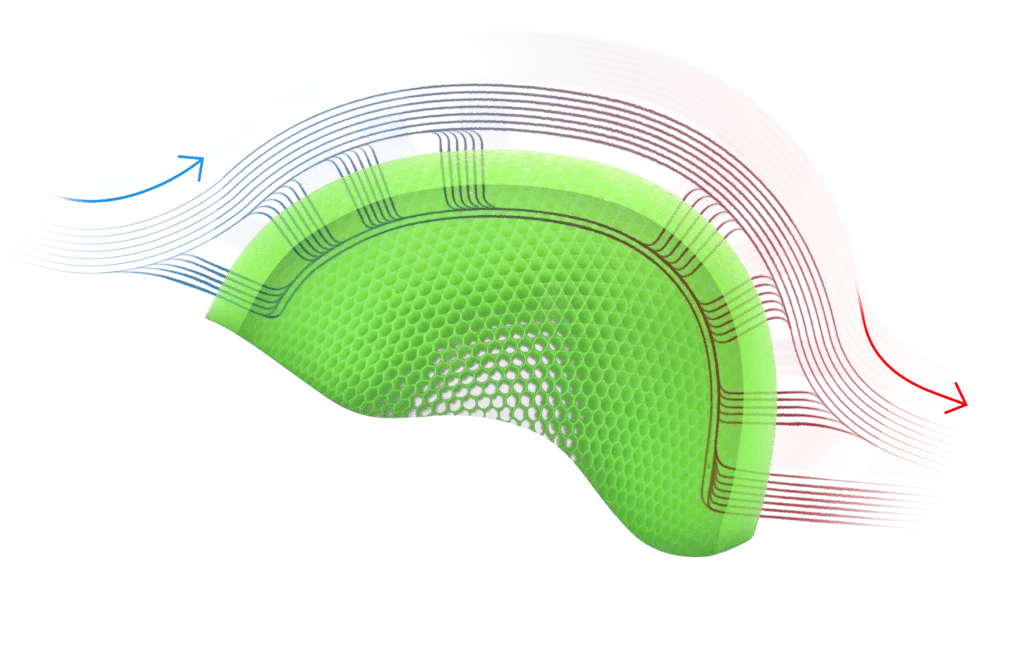 All bike helmets are tested in a lab to ensure they meet safety standards before going on sale. Their performance is evaluated under tightly controlled circumstances, considering a number of different factors such as shock absorption during impact, fastening system durability and ability to endure high or low temperatures.
Some safety tests are more demanding than others. To sell a helmet in the EU or US, a helmet requires a CEN / EN 1078 — mandatory European cycle helmet certification, or CPSC — mandatory American cycle helmet certification, respectively.
Most commonly, we work towards the following standards and aim to achieve even lower limits (better performance) than the certifications stipulate: EN 1078, CPSC8, ASTM F1952, NTA 8776
Why there is no such thing as 'the safest helmet'
Bold marketing claims often leave you thinking you've found the best product. But what those claims don't tell you is that there is currently no way to test and prove 'the safest'. Below are just some of the variables which can affect performance in a real-life impact (other than the helmet construction and materials used): impact surface and angle, velocity at contact, number of impacts, temperature and conditions, etc.
When helmets are tested in a lab, their performance is evaluated under extremely tightly controlled circumstances. Data from these tests can help to inform your purchase, but in no way do these tests differentiate any helmet as 'the safest'.

Read more here: bike helmet testing and certification.
when to replace your helmet
No matter how big or small your crash, you should always replace a helmet after an impact, even if you can't see anything wrong with it on the surface. While the shell might be intact, the energy absorber could be damaged and therefore less, if not completely ineffective if you have another fall off your bike.
If you have a minor knock, there is a chance that there will not be enough force to initiate Koroyd's crumple zone, but that does not mean the helmet is not compromised. There are other materials within the helmet construction that could have been damaged. Generally speaking, helmets are designed to be sacrificial, not multi-impact. Some element of individual discretion is needed to assess helmet damage incurred from minor knocks, but broadly speaking, replace your helmet after a crash.
We also recommend replacing a helmet after 5 years as components of the helmet (not necessarily Koroyd) could have worn and compromised its ability to protect your head.
A helmet isn't just for summer (or Christmas for that matter). To keep your helmet working optimally, you'll need to care for it.
This includes:
– Carrying your helmet safely.
– Cleaning your helmet regularly.
– Drying it out properly.
– Keeping it away from extreme temperatures.
– Being cautious of attachments.
– And of course, replacing it after an impact.

Take a look at our six tried and tested helmet care tips for more detail.